Thames Boat Cruise, Grenwich, Cutty Sark, Imperial War Museum, Anchor Restaurant
It is SNOWING in London!!!
We are marching on the city and expect to gain control by lunchtime.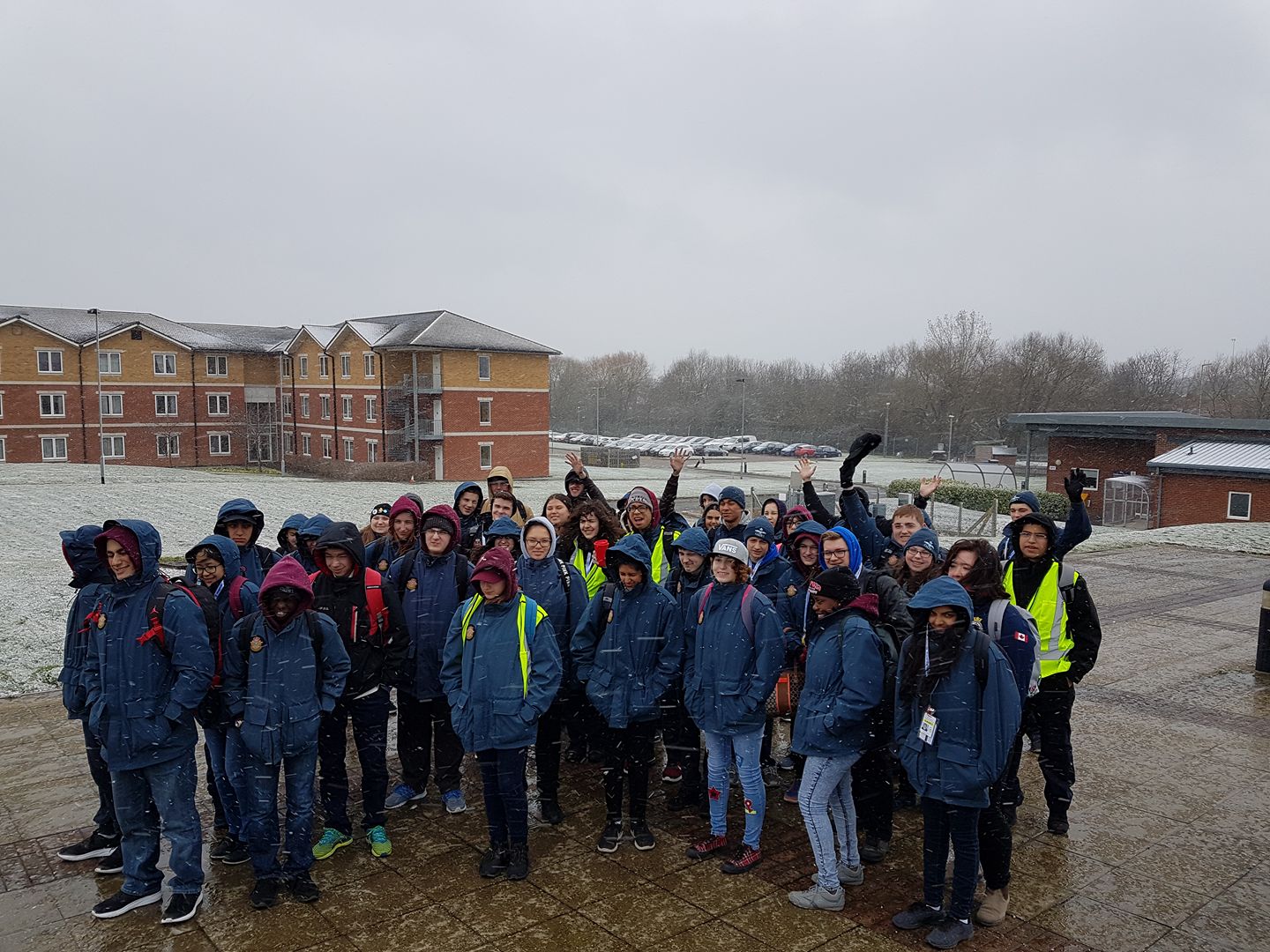 SPITFIRE
Today we woke up too early. It looked like we brought the weather with use (Snow, cold, wind). We were absolutely freezing and guess what? We finally got to go inside Westminster Abbey (instead of just passing by). We were given audio guides, touring us around the Cathedral. It was all very interesting and BEAUTIFUL. We then took a walk to go on a ferry ship around the long, cold, snowy Thames River. Then we went on a Tea boat (Cutty Sark – ed) to learn about it's history. After, we went to the Imperial War Museum, where most of us visited a Holocaust exhibit. Finally went to have fish and chips at a very old restaurant.
Leadining Air Cadet Murgel, M
BLENHEIM
Today we woke up at 6:00am and we went to the mess hall to eat breakfast. After breakfast we went to the tube and took the train to Westminster Abbey for an hour. I don't think that it is nice to walk on people's graves but other than that it was interesting. We then walked to the water ferry and stood in the cold.*** After that we took the ferry and ate lunch and dessert!!! We then took the double bus and I got to sit in the front :). We took the bus to the Cutty Stark ship and went to look around then we went to the gift shop. We took the bus to the Imperial War Museum. We saw how people lived during the war along with many other things.It was very interesting and I'm glad we had lots of time toes and look around. After the museum we went to eat diner at the Anchor Pub. We had fish and chips. It was pretty good but I didn't really like the fish :(. Now we are on the tube to get back to the base. I can't wait to go to sleep ZZZ. All in all it was a really good day and I had a lot of fun.
Cadet Corporal Montes De Oca, P
BLENEIM
Today I woke up and felt like going to sleep for the first time. This felt interesting because I was excited but rather tired too. But most importantly I smelled the fresh smell of spring. Whilst the breeze was mildly chilly, I happened to enjoy this because I put a smile on my face. We went outside and it was really cold and snowing. Everyone was tempted to go to the mess to eat and warm up. On the way there we bent our heads over so that we wouldn't get snow in our faces and necks. When forming up in front of the mess we waited patiently. Once we got in we waited in line for potatoes, sausages and toast. Other foods we available however I preferred toast and sausages. While eating I sat with friends and had a good time. When we were done we formed up in a lobby below us. We received our bag lunches and I got lucky and received a ham sandwich. We went outside for a photo. After that we went back in and waited for…
Cadet Corporarl Ceastov
HALIFAX FLIGHT
This morning was as any other, sucky – only because we have to wake up super early. On top of that we are going to bed between 11:00 and 11:30 pm. But enough of ranting about our sleep. After getting up and getting ready, we are headed out. It was cold just like the last day and there was snow still falling. The train ride was nice because I got to sleep. The ride was about 20 stops, sleeping for half an hour was really nice since we are only getting about 7 or 8 hours of sleep. Anyway, we got to the Imperial War Museum which was too cool. Literally when you walk in, all you can see is a Harrier hanging from the ceiling. Next to it was a Spitfire. Everywhere you can look you can see some sort of gun/cannon or vehicle. There was a Holocaust exhibit which most of the Squadron went to but I stayed back because I wanted to do the Blitz exhibit. That feeling only lasted a good 5 minutes because the Blitz exhibit didn't actually exist any more. So it was off to the little exhibits with Mr. Valentine. That was surprisingly really fun though it did get boring towards the end but that is expected of a group of teenagers. Mr. Valentine actually knows a lot. Yes, I'm sure he read most of the information signs, but a lot of it was off the top of his head. Also we learned that his Great Uncle was a Navigator on a crew for a Lancaster.
After the IWM we went on a ferry ride. That was fun, but there isn't much to talk about that. Finally, we went to a museum again. As of this writing I can't remember the name but that museum was so cool. [Cutty Sark. ed] After this we went back to RAF Northholt where we are staying to sleep for 7-8 hours.
p.s. The cheese sandwiches are just so good. I can just eat them for the rest of my life. (all sarcasm)
Leading Air Cadet Lenarczyk
[editor's note: we did warn you about the cheese sandwiches]
Today was a nice and freezing day. It started to snow and no one was prepared. We went to Westminster Abbey. The building had nice statues and a ton of tombs. Many people are buried there, too. After that, we took a water ferry to Cutty Sark. The water ferry was an unusual and cool way to get to a station. The Cutty Sark is a boat that is placed on top of a building and now it is a museum. Unfortunately we did not go to the observatory, but we did go to the Imperial War Museum. The museum was interesting and very educational. Since it was St. Patrick's Day, we went to a pub for dinner. We had fish and chips with a side of smashed peas. I talked to my friends. Yay, I had a good time. In the end I very much liked the day.
Leading Air Cadet Seblyk
HURRICANE FLIGHT
My day today was OK, but it was really cold the whole day. I had my outer and inner jacket and my sweater, but I was still cold. It was crazy, like I was back in Canada. Anyway, breakfast was good in the morning. After, we walked over to the train station and went to church [Westminster Abbey]. I was so tired all I wanted to do was sleep. I tried to read some of the thins, but I just couldn't do it. After the church we went to the boat cruise. It was really fun. I slept but that's the only thing I wanted. Right after the boat cruise it was time to go to another museum. In this museum, I learned some new things. It was fun. After that it was time for dinner and after dinner it was home time.
Cadet Corporal Malagal
Today was wonderful, as every other day has been, except it was frightfully cold. After breakfast at the Jr. Mess we took the tube to Westminster Abbey. It was amazing. The sculptures and architecture were spectacular. We took some time to walk through the tombs and then headed out to the ferry. There we took loads of pictures in the cold and ate lunch. Some of us bought ice cream?? It was freezing so it didn't make much sense, but OK. Wen we got off the boat we went for a short walk to Cutty Sark, a beautiful exhibit about a Tea Clipper. The museum's architecture itself was awesome. Then we cancelled the trip to the Royal Observatory and instead just headed for dinner at a popular pub for fish & chips. On our walk to the subway after we stopped at Tesco and bought chocolate. (*cough* Sweeney *cough*). Then we got back to the base and finally slept.
Leading Air Cadet Murgel, A