The weather turned colder than usual. Our British cadets were freezing.
Beaumont Hamel – the site of the devastation of the Newfoundland Regiment
Lunch in Arras at Le Pain Helios
Stopped at a house on fire to render assistance – Major Scott, Captain Rangel-Bron and Lt Lenehan went to make sure the residents knew the had a bad chimney and roof fire. They helped evacuate the house before the fire could spread. Pictures Added 3 April 14.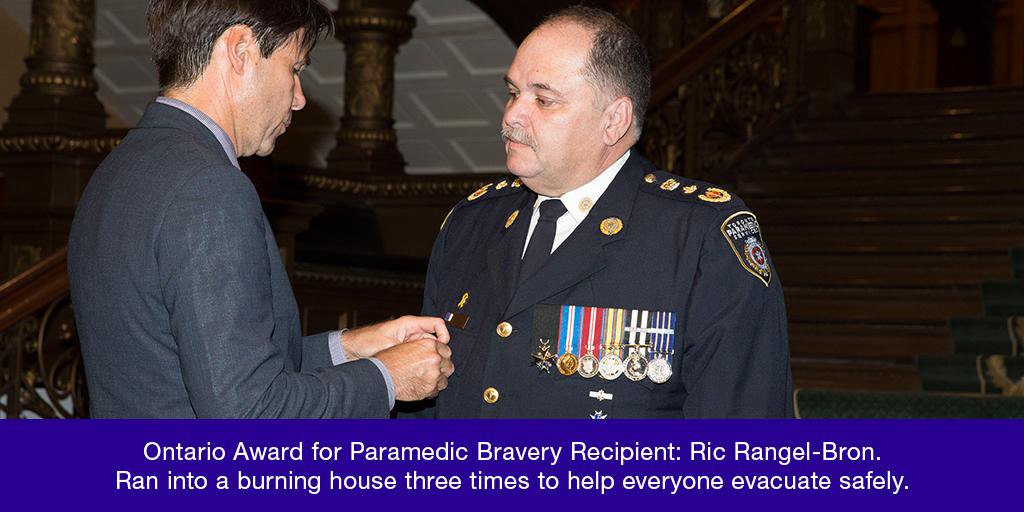 Major Rangel-Bron receives First Ontario Government Award for Paramedic Bravery
Vimy Ridge – Site of the great Canadian victory in the First World War. We took a tour of the original tunnels and trenches, and then we did a Ceremony of Remembrance on the monument. Captain Johnston played the bugle, and Warrant Officers St. Jean, Latchman and Alman read "In Flanders Fields". Capt Johnston's bucket list is now a bit shorter.
After that, four of the 102 Squadron cadets received their promotions, two to Warrant Officer Second Class and two to Flight Sergeant.
Captain Paull was also recognized for his long service. Although his second clasp for his Service Medal has not yet arrived, Captain Paull will have been with 102 Silver Fox Squadron 33 years as of June.
On the bus ride to the ferry, we made a pit stop at a gas station on the highway and some of our female cadets met a lady from Barrie.
Ferry to RAF Northolt – said goodbye to our coach driver, Trevor. Trevor was fantastic, and knew France like the back of his hand. He made many suggestions that were all right on the money.
"Juno Flight"
Today we travelled to Vimy Ridge and Beaumont Hamel. It is the most anticipated part for lots of people, especially myself because after several books and several essays, I've finally made it to the place I've only studied. I have been excited since I have heard of the two places we've come to visit. I have wanted to see this historic place for a very long time. This place called Vimy Ridge is where the Canadians really showed who they are and how hard they fight.
We thank all those who have fought and died here because of the nature of the battle.
The construction of the trenches is absolutely incredible – only meant to last a few months in battle, let alone 100 years and still being intact.
Charlebois and Saulinier were promoted to WO2 right on the memorial, and Brown and Cook-Scott to FSgt. Congratulations!
Beaumont Hamel commemorates where the Newfoundland Regiment lost all but 68 of their men. Now having been to where thousands of men have fought is just incredible.
To these men who fought for our ability to live on this Earth about 100 years ago, We Salute You, with out thanks from the deepest part of our hearts.
FSgt Haggerty
"Caen Flight"
Today was an even better day, and probably one of the most defining moments in my life, but I will get to that soon. The day started with everyone getting into their uniforms preparing for the long day ahead. We travelled to the Beaumont-Hamel Memorial, Newfoundland's defining moment in The First World War, where we toured where the Newfoundland Regiment fought and died. In recognition of the heroic actions of the Newfoundlanders, the Regiment was granted a battlefield "promotion" by the King and appointed the ROYAL Newfoundland Regiment, a rare honour during wartime.
After we travelled to Canada's defining moment in history – Vimy Ridge. We went through the trenches of the battle, significantly different today filled with tourists rather than brave soldiers. Then, we went to the Vimy Ridge Memorial. We formed up in our Flights and marched towards the giant white pillars off on the hillside. As we marched, I could not help but look up and feel stunned by its beauty. We marched onto the Memorial and had a small ceremony – The Act Of Remembrance to honour our fallen, the Last Post was played as we stood at attention at this great monument. I was in great awe as I tired to convince myself that I was actually there, standing in front of it! Then, to my surprise, I was called up to the front of the parade my Major Scott who then promoted me to the rank of Flight Sergeant!
This is one of the greatest honours I have ever been given, and to think that it was at such a sacred place! I am truly honoured to have stood there, at Vimy Ridge, where so many brave and valiant men have fought, so many have remained…I will never forget this experience, let alone being promoted on these hallowed grounds.
Afterwards, we began our journey back to England, saying good bye to our new British friends when we arrived at RAF Northolt. Even now I am still amazed that I have had this opportunity to go to Vimy, to be promoted in such an amazing place. This is one of my most amazing moments and I will never forget it, or the brave men who fought for us.
I am thankful for this opportunity of a lifetime!
Cadet FSgt Matthew Cook-Scott
"Juno Flight"
Yesterday we got up the earliest we had for the entire trip, and put on our uniforms for the first time. We completed packing for the return trip to the UK and the coach was loaded.
After breakfast, we went for a two hour bus ride to the Beaumont Hamel Memorial. We went there because it was a very important battlefield for the Royal Newfoundland Regiment during the First World War. Here, on July 1, 1916, during the Battle of the Somme, 86% of their regiment was wounded or killed.
After leaving Beaumont Hamel we went to Vimy Ridge, which was the bloodiest battle in Canadian history, and the first time that all four Canadian Corps fought together.
There, at the memorial, we performed a Remembrance Ceremony. In the shadow of the memorial there were some field promotions.
After departing Vimy, we went to the Calais Port and took the ferry to Dover, England.
A long bus ride led us back to RAF Northolt and there we had to say goodbye to our RAF friends. Later, we went back to our barraks and settled in again.
FCpl Houter
**************
The 5 Cadets from 142 Squadron read the following poem at Beaumont Hamel.
Green Fields Of France
Eric Bogle
Well, how do you do, Private William McBride,
Do you mind if I sit down here by your graveside?
And rest for awhile in the warm summer sun,
I've been walking all day, and I'm nearly done.
And I see by your gravestone you were only 19
When you joined the glorious fallen in 1916,
Well, I hope you died quick and I hope you died clean
Or, Willie McBride, was it slow and obscene?
Did they Beat the drum slowly, did the play the pipes lowly?
Did the rifles fir o'er you as they lowered you down?
Did the bugles sound The Last Post in chorus?
Did the pipes play the Flowers of the Forest?
And did you leave a wife or a sweetheart behind
In some loyal heart is your memory enshrined?
And, though you died back in 1916,
To that loyal heart are you forever 19?
Or are you a stranger without even a name,
Forever enshrined behind some glass pane,
In an old photograph, torn and tattered and stained,
And fading to yellow in a brown leather frame?
The sun's shining down on these green fields of France;
The warm wind blows gently, and the red poppies dance.
The trenches have vanished long under the plow;
No gas and no barbed wire, no guns firing now.
But here in this graveyard that's still No Man's Land
The countless white crosses in mute witness stand
To man's blind indifference to his fellow man.
And a whole generation who were butchered and damned.
And I can't help but wonder, no Willie McBride,
Do all those who lie here know why they died?
Did you really believe them when they told you "The Cause?"
Did you really believe that this war would end wars?
Well the suffering, the sorrow, the glory, the shame
The killing, the dying, it was all done in vain,
For Willie McBride, it all happened again,
And again, and again, and again, and again.
Did they Beat the drum slowly, did the play the pipes lowly?
Did the rifles fir o'er you as they lowered you down?
Did the bugles sound The Last Post in chorus?
Did the pipes play the Flowers of the Forest?
****************
We have returned from our invasion into France along the Normandy coast line. This portion of the trip truly tied in all of what the cadets have learned and achieved over the year to attend this exercise. They shared this experience with 7 members of our host squadron, 14F British Air Cadets. New international friendships have been established.
The days in France were truly an honour and heartwarming. The last day at Vimy Ridge was two fold of remembrance. Remembering the reason we as Canadians are free today and creating a life time memory with cadets and staff. Four of our cadets were promoted at the monument as well as recognizing one of our dedicated Officers. A very remarkable five days!
Overall, exercise execution is 100%!
C.C. Scott
Major
CO 102